Right now, school districts all over the country are developing plans for what fall's "back to school" will look like. From totally virtual, to hybrid, to totally in-person there are so many variations of what fall 2020 is going to look like for students, teachers, and schools. It is frequently stated that children are at less risk for COVID-19 than adults (there is some debate about this). But, what is not being stated is that many teachers are in high-risk groups for COVID-19. So, I ask you – What about us? What about teachers? What can we do to keep ourselves safe? I am not an expert by any means, but here are some suggestions (with resources linked) that may help you stay safe and/or may help you feel safer when returning to school.
Please note, I've linked to articles and resources as applicable to the items I suggest. I've done my best to ensure the articles I've cited contain the most recent understanding of the tool suggested and COVID-19 as of the writing of this blog post (June 23, 2020).
If any of these suggestions resonate with you, I recommend purchasing them now (I make no money from any of this, btw). The closer we get to the beginning of the school-year, the more people will be demanding these items. Buy now to ensure you have what you want/need this fall.
Wash Your Hands
I've said it on this blog before, "hand sanitizer is great, but it ain't magic." And you've heard this before: Hand washing is a very simple step you can take towards keeping yourself safer. The CDC recommends your wash your hands for at least 20 seconds.
Wear a mask
Wearing a mask is one of the easiest and simplest things you can do to protect yourself and others. The idea of wearing a mask for 8+ hours may seem daunting, but keep in mind medical personnel do this all the time. You can do it, too. If you have time, work up to wearing a mask for longer periods by "practice wearing" one at home. If you are able, purchase several different masks to determine which one is most comfortable for you. Then, once you know which mask is most comfortable, buy enough masks that you have a different mask for each day of the week (to prevent you from having to wash a mask daily).
Here are a few masks that I own and really like:
– TrueHempCreation cotton masks on Etsy
– WonderBloomsCo cotton mask with tie string back and nose wire
– MaskTopia Mask with velcro tie back

Here are some mask do's and don'ts
– Do use a filter in your mask, I recommend pm2.5 activated carbon filters
– Do get a mask strap extender to avoid "ear fatigue;" I own and like this one
– Don't use a mask with a vent; these have been shown to actually spread COVID-19
Wear a Face Shield
Sure, face shields look a little silly and a little bulky. . .But consider how many students show up with runny noses, sneezes, coughs and other ailments that spread through the air. Wearing a face shield is one more step you can take to keep yourself safe. And, as a bonus, the students can still see your face through the shield.
Here are a few face shields via Amazon
– 10 PCS Face Shield with 10 bands, 10 films
– 2 PCS Face Shield with 2 bands
– 2 pack Protective Face Shields with clear vision
Buy/Create a Shield Around Your Desk Area
Create a "safer space" from germs in your classroom by adding a shield around your desk. Don't let students enter your desk area, and keep your own supply of materials in your desk area. This ensures that when you do have time to sit at your desk, it is as safe as you can make it.
Here are some shielding suggestions:
– Buy shields from Michael's Craft Store
– Buy plexiglass from Home Depot or Lowe's
– Buy poster frames and use the plexiglass from them to build your own shield (super cost effective). Here are some frames I bought from Amazon
– Buy clear plastic shower curtains and use them as a shield. My local post office is using this method.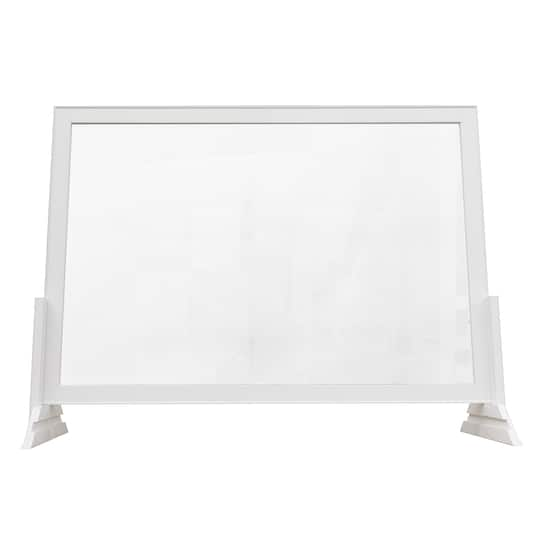 Buy an Air Purifier For Your Desk Area and/or Classroom
An air purifier alone isn't enough to protect you and your students from COVID-19, but an air purifier is one more step you can take (in conjunction with masks etc.) to keep you and your students safe.
Here are some air purifiers I like:
– This is the air purifier I bought for my desk
– Here is another desk purifier that I like
– Here is an air purifier for up to 700 square feet
– Here is another air purifier for up to 700 square feet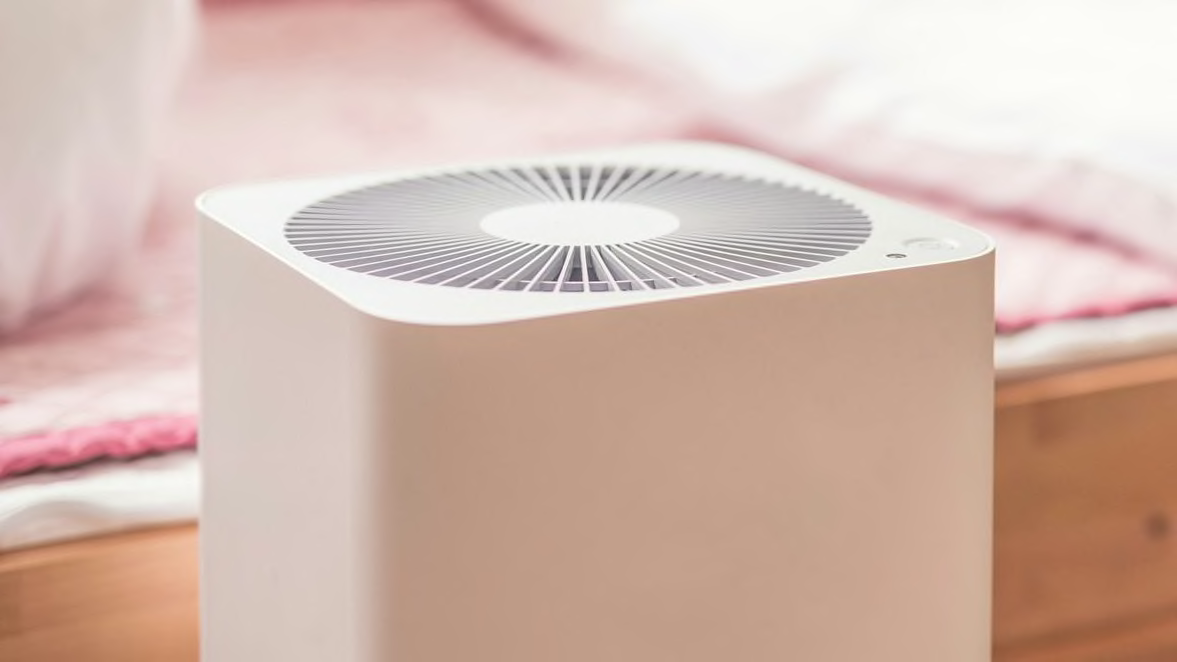 Get a Brass Door Grabber
Teachers are constantly opening and shutting doors, cabinets, and other communal items. Protect yourself by using a brass door opener. Viruses die when they land on copper and copper alloys like brass; it is a naturally antimicrobial material. Using a brass door grabber keeps your hands off of communal surfaces, and the nature of material of the door grabber keeps the liklihood of you contacting the virus from a door handle down.
Here are some door grabbers:
– I own and use this one. I keep it on my key chain.
– Another set of brass door grabbers
– One more door grabber
Buy a UV Sanitizer for Small Personal Items (Including Your Phone)
UV light has been used over 100 years to kill viruses. In fact, you've probably seen UV light sanitizer used in a doctor's office, a nail salon, or a barber shop. UV light has been shown to be effective against other coronaviruses, including COVID-19. I would still use sanitizing wipes to clean small items; I would use a UV light sanitizer in conjunction with those efforts.
Here are a few UV Light Sanitizers:
– HoMedics Portable UV Sanitizer
– UV Phone Sanitizer (this is the one I own and use)
– UV Sterilizer Box
Use Disinfecting Cleaners Everyday and/or Multiple Times a Day
One of the keys to keeping your classroom clean is to keep down on germ and virus spread by disinfecting frequently used surfaces. Every school district has different rules as to which cleaners can and cannot be used in a school setting, so I encourage you to review the restrictions on cleaning materials for your district. In an ideal world, your school district will supply you with cleaners; but I know this often isn't the case. One of the struggles right now is to find cleaners to purchase as they are in high demand. Follow your favorite local grocery store on social media; they are often posting when cleaning materials will be/are being delivered. Get creative about how you search for cleaning materials online – Don't just search for "Clorox" or "Lysol;" think about phrases like "disinfecting cleansers" and "office cleaning supplies" etc. Don't forget that office supply chain stores also carry cleaning supplies, too.
The CDC has a great list of chemical disinfectants that can be used to sterilize surfaces in healthcare facilities; it's a great reference. Another article from Consumer Reports has a list of common household products that can destroy COVID-19. One of the easiest and cheapest materials on both lists is 3% hydrogen peroxide. Every time I have visited my local grocery store, they have had 3% hydrogen peroxide available in the pharmacy section. I've been buying it as needed to disinfect surfaces my household. It is a material that is safe to use around students, too.
Want more information specific to how you keep the art room and other arts-related spaces safe? Check out this document: Considerations for Visual and Performing Arts Classes in the Era of COVID-19.